With a unified product suite, SYSPRO provides a unique combination of robust, scalable solutions that ensure minimal risk and a high return on investment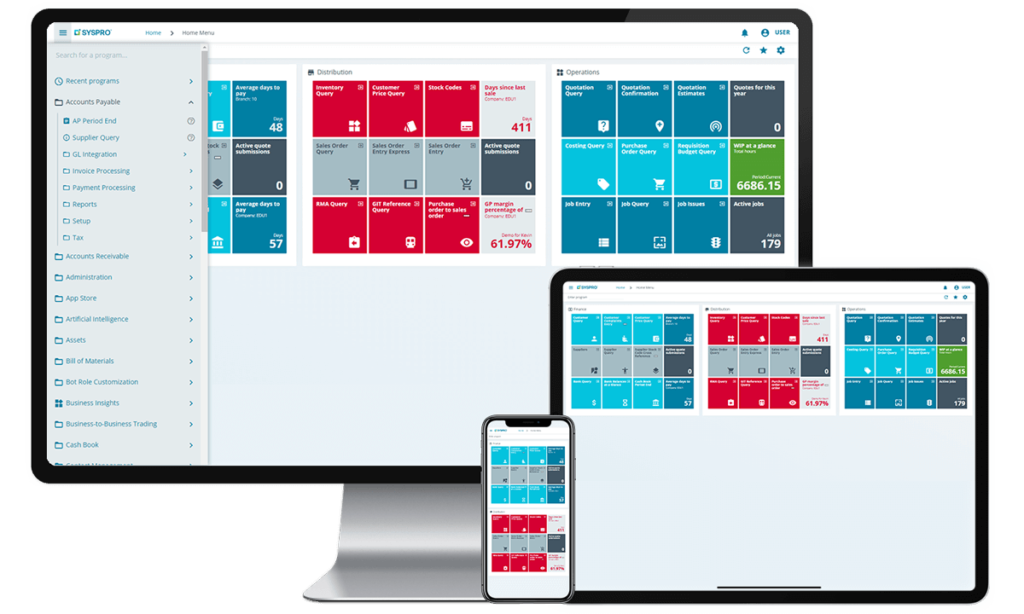 SYSPRO ERP Technology Architecture
To stay competitive, strategic manufacturers and distributors know they need to enable employees with the right software tools. The challenge lies in choosing an ERP technology partner that addresses today's needs while offering flexibility so you can keep pace with future requirements.
At SYSPRO, we are committed to making our Enterprise Resource Planning (ERP) software suite future-proof, so you can maximize agility and take advantage of new ERP technology innovations as they develop. Our product development team constantly keeps your investment top of mind when building new functionality.
Here is what makes our enterprise technology solutions best in class:
Enterprise Technology Solutions
SYSPRO ERP Architecture: Putting You in Control
SYSPRO ERP Software is unique because it is based on a single code base, rather than being a mixture of different applications acquired over time. The software is developed around business objects, components or blocks of code that represent a specific set of business rules and processes.
Because of this component-based architecture, SYSPRO's functionality can be continually extended through the addition of new components, whether they are internally developed additions, or new technology from a partner.
In SYSPRO ERP, the architectural components have been separated into database, business logic and user interface. This enables you to interact with applications through a variety of means, without loss of integrity and maintaining security.
Access the system through a standard SYSPRO user interface; a personally developed one; or a Web/Microsoft Office interface
Enable data exchange with third-party systems or customers and suppliers
Use any device, on-premise or via the cloud
Create your own business features and functions and integrate them seamlessly with SYSPRO business logic or data
Avoid the cost of redevelopment during SYSPRO upgrades
Technology Innovation: Staying Ahead of the Curve with SYSPRO
ASYSPRO Azure Cloud Platform – Through a partnership with Microsoft, SYSPRO will be delivered as a platform as a service (PaaS) on Microsoft Azure cloud infrastructure
SYSPRO Harmony – Designed to address complex tasks, the cloud platform combines collaboration tools with machine learning and data analytics to help customers with advanced and difficult issues
SYSPRO Bots – An artificial intelligence (AI) within SYSPRO ERP that can be used to streamline business processes
SYSPRO Predictive Search – A native, customized search engine that can rapidly call up relevant information for the user
SYSPRO WebViews – An update to the UI delivering role-based views, key performance indicators and customizable dashboards
Lets work together to create positive change in your business
Get in touch to find out how SYSPRO can assist you and your business today